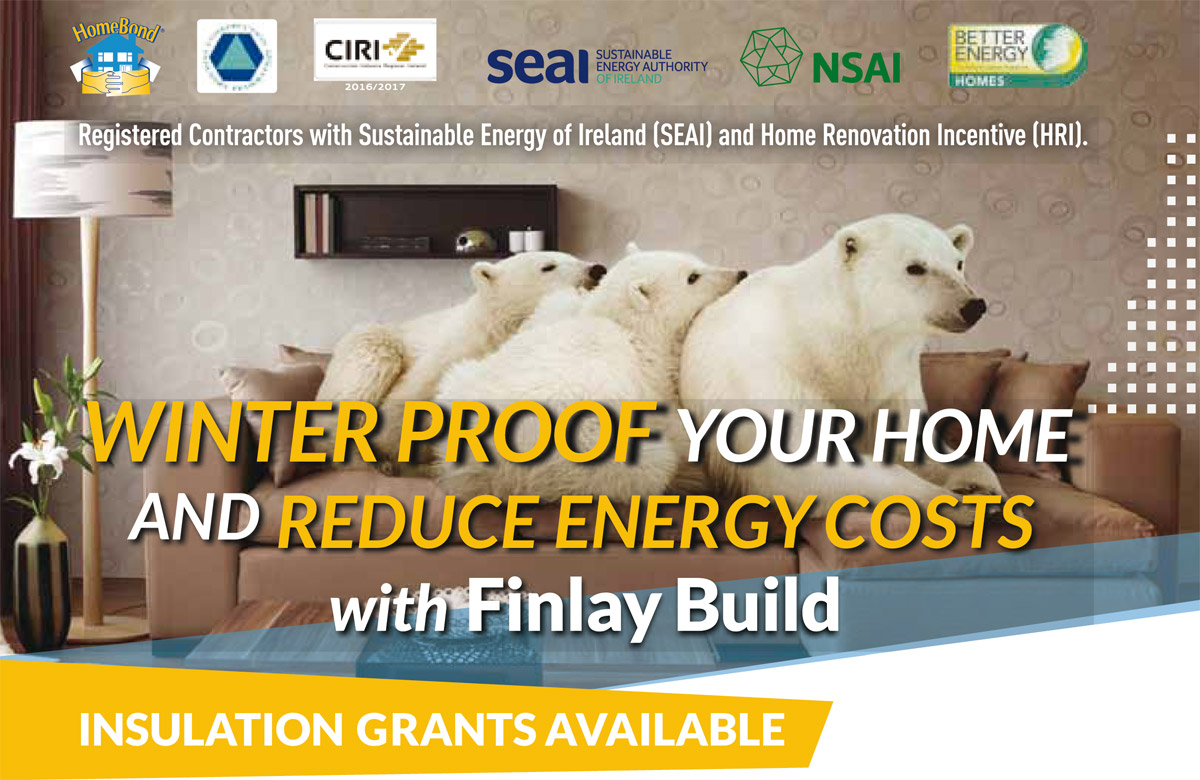 Finlay Build are approved contractors under the Better Energy Home Scheme. Available to all owners of homes built before 2006
SEAI Insulation Grants Available through Finlay Build
| | | |
| --- | --- | --- |
| Attic Insulation | | €300 |
| Wall – Internal Dry Lining | Apartment (any) or Mid-Terrace House Semi-Detached or End of Terrace Detached House | €1,200 €1,800 €2,400 |
| Wall – External Insulation | Apartment (any) or Mid-Terrace House Semi-Detached or End of Terrace Detached House | €2,750 €4,500 €6,000 |
| Heating System | Heating Controls with Boiler (Oil or Gas) Upgrade Solar Thermal Grant | €700 €1,200 |
| Bonus Grant | For 3rd Measure For 4th Measure | €300 €400 |
| BER | Building Energy Rating (BER) *Available to all owners of homes built before 2006 | €50 |
The Home Renovation Incentive Scheme through Finlay Build
Finlay Build are registered contractors under The Home Renovation Incentive scheme. This enables homeowners or landlords to claim tax relief on repairs, renovations or improvement work that is carried out on their main home or rental property by tax-compliant contractors and that is subject to 13.5% VAT.
The scheme is aimed at providing a real incentive to encourage home owners to make their homes more energy efficient. With the Tax Incentive you can claim the VAT portion of any bills for renovation works aimed at improving your home, including the installation of those brand new energy saving PVC Windows and Doors available through Finlay Build. Our range of windows and doors offer excellent levels of durability, maximum security, weather resistance and energy efficiency whilst still maintaining style and performance.
But it is not limited to windows and doors, the scheme applies to a whole host of other services that Finlay Build provide such as renovations, extensions, external insulation and much, much more. All of these services are aimed at improving your home, both in improving its energy efficiency and increasing the value of your home. Plus you have the added peace of mind of knowing that all our work is carried out to the highest of standards. For more information go to http://www.finlaybuild.ie/home-renovation-incentive
Grants Available with your Local County Council, Housing Section through Finlay Build.
Finlay Build has worked with a number of people who have ascertained the Home Improvement and Disability grants available from your local Council. Our services include complete adaptation extensions, handrails, ramps, grab rails, light switches, door handle lowering, widening doorways and corridors, raised toilets, adjusted basins and sinks and complete bedroom solutions.
This Grant provides financial assistance to assist in the carrying out of works which are reasonably necessary for the purposes of rendering a house more suitable for the accommodation of a person with a disability who is a member of the household who is either
Physically handicapped and the works are necessary for his or her proper accommodation, or
Suffering from severe mental handicap or severe mental illness, for which he or she is undergoing treatment, and the works are necessary for his or her proper treatment and accommodation.
For More Information Download the Housing Adaptation Grant for People with a Disability Form
This Grant is available to cover a basic suite of works to address mobility problems, primarily, but not exclusively, associated with ageing. The works grant aided under the scheme include:
Grab-rails.
Access ramps.
Level access showers
Stair-lifts.
Other minor works deemed necessary to facilitate the mobility needs of a member of a household.
For More Information Download the Mobility Aid Housing Grant Form
This grant is available to assist older people living in poor housing conditions to have necessary repairs or improvements carried out. The types of works grant aided under the scheme include structural repairs or improvements, re-wiring, repairs to/replacement of windows and doors, the provision of heating, water and sanitary services, cleaning, painting and dry-lining.
For More Information Download the Housing Aid for Older People Application form